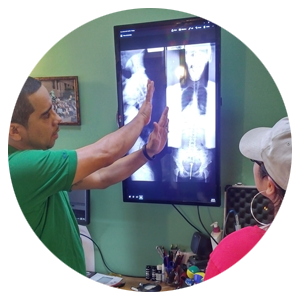 I was born and raised in Paterson NJ, then moved to Hackensack NJ at the age of 10 where I currently reside with my family for 28 years.  I also lived in Homestead, Fl., Marietta, GA., and Santa Clara, CA for short periods of time, but always found my way back to Northern NJ as one can easily say I am a Jersey boy at heart.
Rewind a few years to about age 11, when I was first exposed to chiropractic care due to a motor vehicle accident. I was intrigued even at such a young age by how simple it looked yet I knew there was a lot more to it.  At this point, I had no idea chiropractors were doctors. I thought they were a technician of sorts.  After my second exposure, I knew that was something I could see myself doing.  It was at the age of 12 I found out they were doctors.  I can remember that day walking up the hill in front of my high school on Beech St. in Hackensack, when I said to myself I was going to do whatever it took to become a chiropractor, something I naively thought would be so easy!
Fast forward about 9 years and off to Marietta GA I go to begin chiropractic school at Life University.  I excitedly started schooling when come 3rd quarter the school loses accreditation.  I stood as long as I could until 5th quarter in hopes of them regaining accreditation which did not end up happening while I was there. They did regain it some time after.  I relocated and transferred to Palmer College of Chiropractic West in San Jose, CA.  Although I lost 6 months of schooling I do not regret going to Life University.  In 5 quarters out of 16, I learned 80% of my chiropractic at Life University.  Palmer was very different philosophically and I brought tons of energy and information to share with other students.  I became certified in Gonstead Club by upperclassmen students from Life University who had transferred as well.  I worked my way up from treasurer to the president of the club until graduation.  I also helped to run and teach a chiropractic Spanish club to teach students basic chiropractic/medical terminology.  I was awarded the Who's Who award for my active participation in extracurricular activities.
I graduated in 2005 and had earned enough hours to be able to take the Gonstead diplomate exam, which required 300 post graduate continuing education hours.  However, I needed 3 years of being in practice to meet the requirement to take the exam.  Come 2009, I obtained my diplomate status in Gonstead, a huge goal, and accomplishment.  
I have a beautiful family. A sweet 6-year-old daughter who is in 1st grade and spunky boy/girl 3-year-old twins.  Alongside my lovely wife of 16 years, we operate the office and household as a team.  Our goal is to provide our patients with a top notch chiropractic experience.  I treat my patients as a lifetime relationship rather than a quick fix.  I look for cases that many doctors will not accept.  I love what I do and my wish is to have the ability to adjust patients until my last breath.