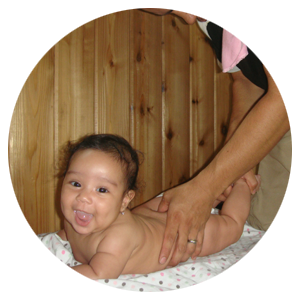 A common question asked by Dr. Mendez is, what do you think is the youngest age the human spine should get checked?  Most people walking into our office don't really know how to answer that.  A common reply is teenage years, or the age when they started to feel a problem or symptom.
Just to give a reference and lead by example, Dr. Mendez has been checking and adjusting his children at just hours of age right after being born still at the hospital. A tremendous amount of force is placed upon the neck to pull the newborn out of the womb whether it is a vaginal or C-section birth.  We have yet to find an infant without some pressure on the nerve.  Besides his own, Dr. Mendez has worked on newborns as early as 11 days old.  Just as in an adult, the nervous system controls and coordinates all the functions of the body.  One way to look at it is; if the stems of a tree grow crooked, the branches do as well.
Dr. Mendez is specialized in the Gonstead technique which works on pregnancy to newborns, right up to geriatrics.  Precision Family Health is truly a family practice from the Mendez family getting regular routine care, translating the information to your family to live a healthier lifestyle.
141 Lincoln St
Hackensack, NJ 07601